Our company, Aquacrom Produkt Kft, is a Hungarian polycarbonate pool cover manufacturer. We represent our products and services in more European countries, since 2010. The principle of our company is to produce premium quality, safe and innovative pool covers, which really can make using the pool easier for the customers.
Year by year we develop our products and making our product range wider, which includes 23 types of products right now. Our target is to offer the highest quality and technology to our customers, in accordance with the newest trends on the market and leave the smallest ecologycal footprint, according to our company's environmental philosophy. With our pool covers, you can make your pool's using enjoyable, clean, comfortable and safe.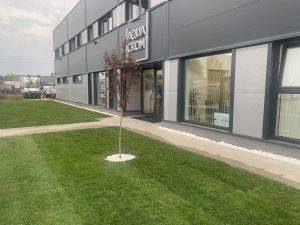 In order to a safe and accident-free pool use, we serve our customers' interest with innovative solutions at the development of every type of covers. We are continously seeking to accomplish the most modern technologies, the finest example of it that we opened our brand new factory building in 2021, where we manufacture our products with a more modern production line and enhance the ordinary excellent quality.
Our technologies' prominent elements are the rounded edges and corner points. The segments can be positioned and locked in maximum safety, because of the automatic lock, what is designed in the profile. We minimize the possibility of accidents with the ultra flat segment positioners what we placed inside the rails. Our segment protections are ergonomic, it can be worked even by feet.

We are very proud of our colleagues, we employ only professionally highly qualified Hungarian people, who guarantee the high quality of our products and services with their knowledge and experience.
We are committed to the direction of quality, so we make our products to be appropriate to these standards : ONR 191160, EN 1090-2, ISO 9001:2015, DIN EN 1999-1-1, ISO 14001:2015 AFNOR P90-309, and our production controll system is working appropriate for TÜV certificate, to protect our customers' interest.